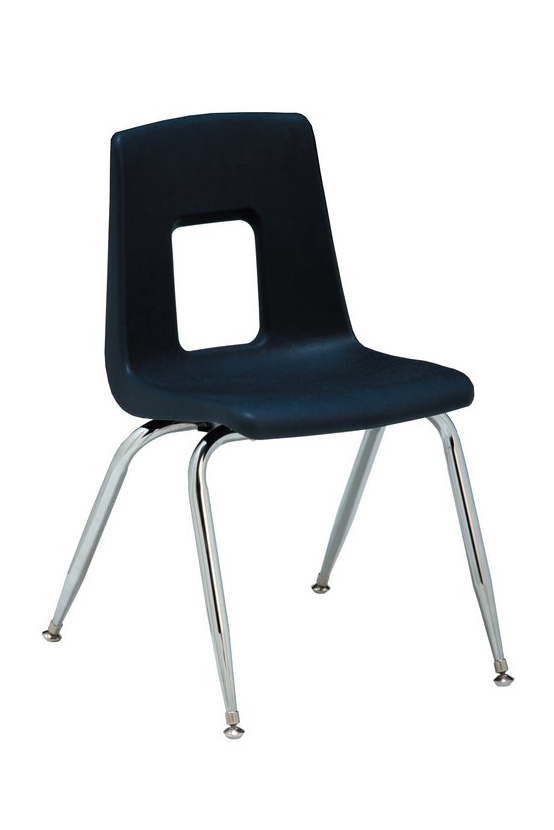 SC100
Budget friendly with traditional design, the 100 Series supports every student. The chair has a sturdy polypropylene shell on a solid A-frame leg design. Seen on the hit show "Glee" in the choir room scenes.
Heavy duty and static free, high-density polypropylene material with a light grain surface, injection molded into a one-piece shell unit with heavy duty reinforcing structural ribs. The rectangular opening in the shell back provides added comfort as well as a handle grip. The shell is attached to the frame with steel rivets underneath the seat, which offers no exposed hardware on the surface.
Legs formed of 18-gauge, 1 1/8" (16-guage on the 18 1⁄2" chair) full-tube steel (1" 18-guage on the 11 1⁄2" & 13 1⁄2" legs). Each leg set (front and back) made of one tube running side to side of the seat. Legs are welded to a 16-gauge die formed seatbracket providing flex support for the seat. Seat bracket not applicable to 11 1⁄2" & 13 1⁄2" sizes. Legs are swaged to a consistent 5/8" outside diameter to provide consistent fit of glides and provide for added strength.
Silent, rubber cushioned, swivel of self-leveling, 1 min. diameter, hard carbonsteel, nylon based type with a flat bottom, chrome plated.
Available Options: Casters, Sled Base, Book Baskets, Pads (seat and back), Steel Glides, Q-ball Glides, Boot Glides